Arthrocad
Arthrocad hip arthroscopy approach system.
Arthrocad
• Facilitates the creation of portals for hip arthroscopy allowing quick exchange and passage of instruments during the procedure.
• The portal keeper allows exchanging easy and fast the accesses without losing the entrance via.
• The adjustable guide allows a precise access by the front portal without needing to use an image intensifier, reducing the number of attempts to access the joint and the risk of causing injuries.
Related products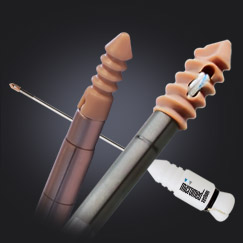 Ar-Mic Peek
Ar-Mic Knotless
RF Terminal